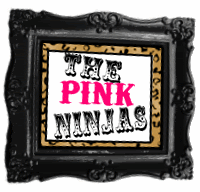 I am so sad to announce the demise of the Pink Ninjas blog. Read more about it
here
.
I am so grateful to Ally and Nely for embracing me and my sometimes weird layouts. Before joining in on their fun I felt like I needed to conform to a certain way of scrapping. Thank you so much, girls, for showing me scrapping is as individual as the person!! I have made some of my favorite layouts for the Ninjas.
I'm also so grateful to have made so many awesome, sweet and wonderfully talented friends during my time on the team.
I wish Ninja Masters Ally & Nely much continued success with their
Ninja Addicts kits
, which will become their sole Ninja focus.